Geeks go to the grassroots (Times of India)

Engineering a change (Hindustan Times)

Heroes Happen Here (Hindu Business Line)

Tech Talk (Navbharat Times)
New BPO Centre set up in Guwahati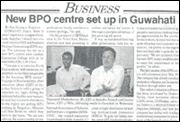 Guwahati, May 4: After 15 year's experience in apparel business, Anjaybee Infotech has ventured into the ITES and Business Process Outsourcing (BPO) sector. The company has set up a new BPO centre near Gauhati Commerce College with an investment of Rs 1.20 crore.

"Our aim is to train the North East students with minimum expenditure so that they can get jobs in the booming BPO sector," Nayanjyoti Bhattacharyya, chief executive officer (CEO) of Anjaybee Infotech told a group of reporters last night. Giving the rationale behind his new venture, he said that hundreds of students in the region are getting BPO training in Bangalore, Mumbai and New Delhi for which they have to pay more. "We are also offering the same training by our professional faculty members at a lower package," he said.
On the prospect of BPO business in the North East, Bhattacharyya said that according to national Association of Software and Services Companies (NASSCOM), the trained manpower requirement in India is nearly 2.7 million and hence the youths in the region can take advantage of the growing job sector.
It may be mentioned here that after globalization, India has become a major destination of leading multinational companies (MNCs). To grab the Indian market, several IT, insurance and electronic companies have started aggressive operations creating huge job opportunities for the youths. In this context, he observed that in spite of having vast manpower resources, the youths in the region have not been able to grab the opportunity. "We are optimistic that the new BPO centre would be able to meet the requirement of the youths," he added.
The first session of the BPO centre will commence from May 15. The company has already enrolled students in Mizoram and Arunachal Pradesh through online test.
The online evaluation software has been developed by Sanjeev Sarma, Chief Executive Officer (CEO), Webx. SD Phukan, director, Interaco, a training division of Anjaybee Infotech, said that the company has tied up with leading multinational companies for placement of the passed out students.

ASTC to launch e-ticketing soon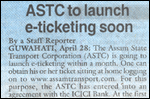 Guwahati, April 28: The Assam State Transport Corporation (ASTC) is going to launch e-ticketing within a month. One can obtain his or her ticket sitting at home logging on to www.assamtransport.com. For this purpose, the ASTC has entered into an agreement with the ICICI Bank. At the first stage, the benefit will be extended to the customers of the ICICI Bank only. For this purpose, the Corporation has engaged 55 agents all over the State. The agents will be awarded ten percent commission in this system. The software necessities for the e-ticketing have been prepared by WebX Technoyard, Guwahati.